DuoDeck WPC Decking
Our DuoDeck range has a natural grain that looks great, feels great and gives maximum performance against stains. Our dual-sided wood plastic composites come with a reversible two-colour option, meaning there is opportunity to create a bespoke finish with the two contrasting colours.
01395 562554
Buy Now

DuoGroove & DuoDeck Area Calculator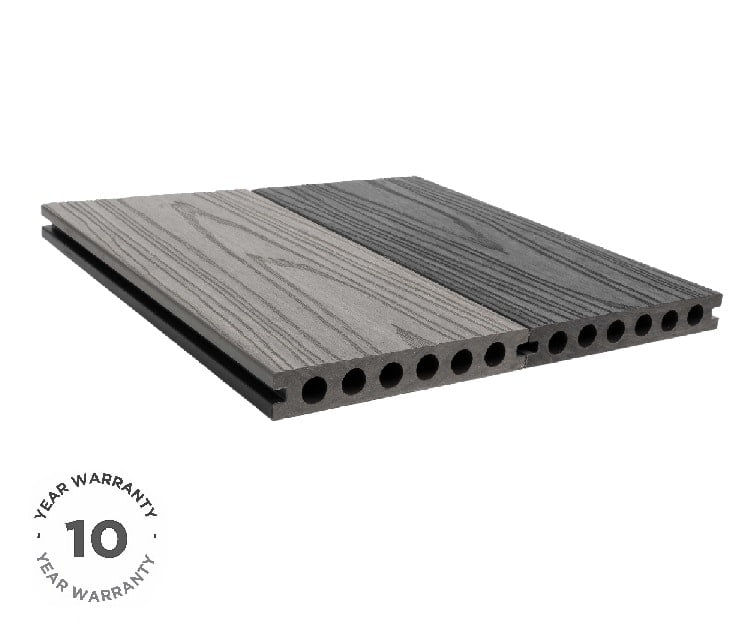 3.6m – 22.5 x 145mm
DuoDeck Antique / Carbon
Side One: A lighter shade of grey for that modern look
Side Two: A darker grey for a rich colour appearance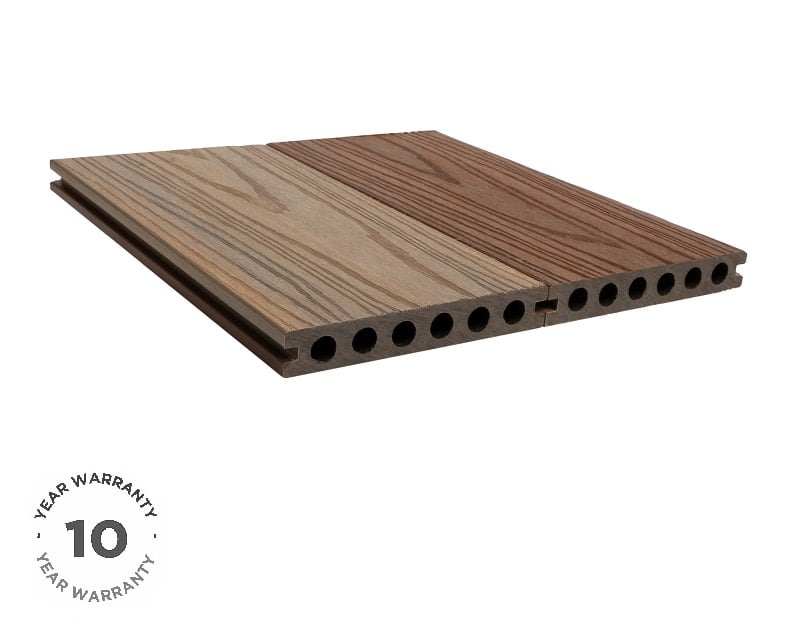 3.6m – 22.5 x 145mm
DuoDeck Redwood / Maple
Side One: A deep brown appearance for the hardwood look
Side Two: A blend of light brown and other enhancing colours
3.6m 138x12mm Composite Facia Board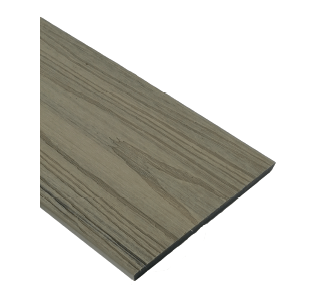 Designed to cover the side of the deck board and the joist and embossed with the wood grain effect. Measuring 12x138mm and available in four colours to match the deck boards, antique, carbon, maple and redwood.
Plastic Clip & Screw for DuoDeck Boards
Plastic Tee Clip and Screws and designed to complement the decking perfectly, they are laid in-between the boards, not only giving the perfect gap but also a hidden fixing.
Metal Starter Clip for Duodeck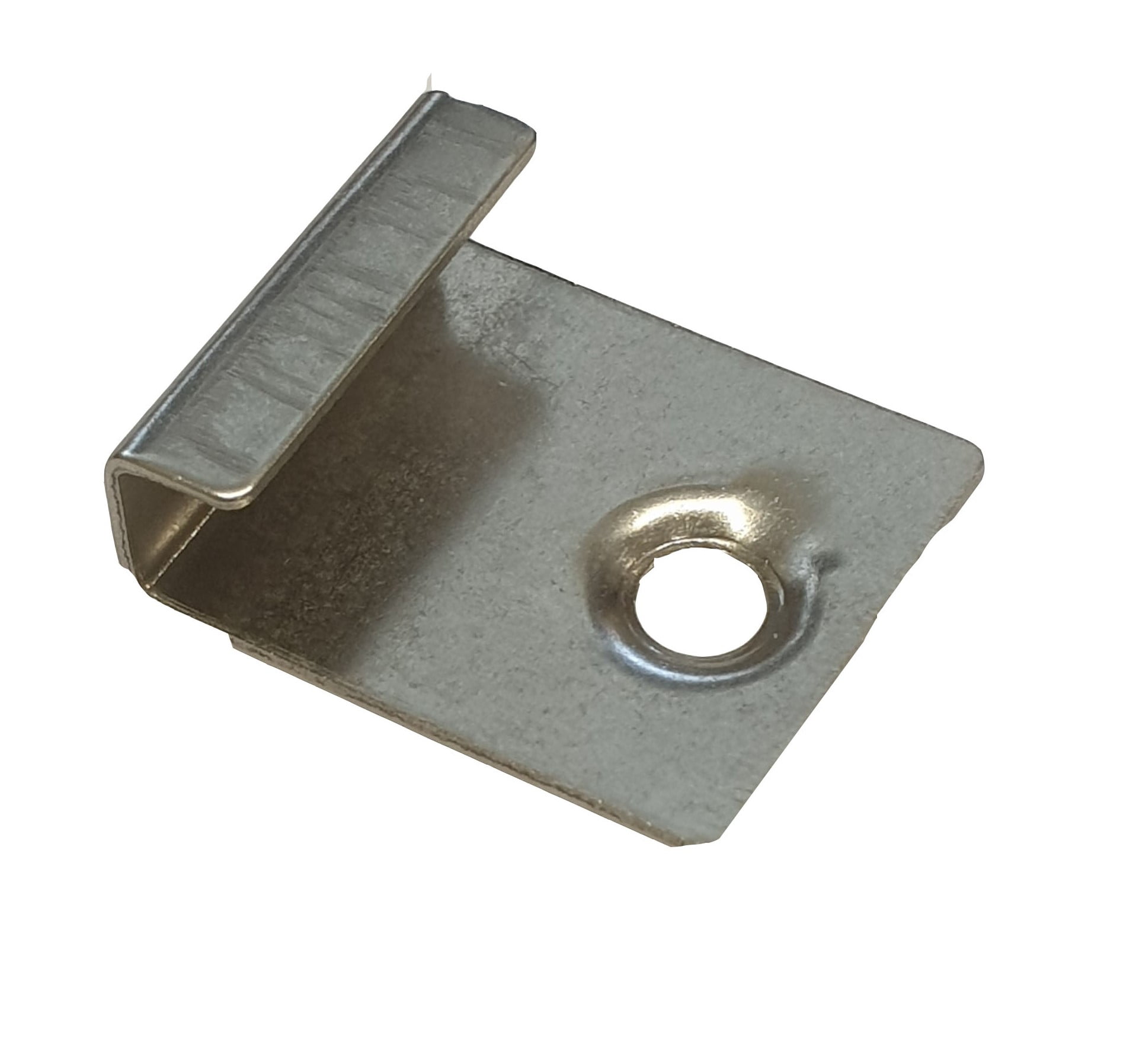 Starter Clips as the name suggests start the decking run, they are fixed down on the edge of the first joist and then the deck board is pushed up tight, allowing any facia's or skirting boards to sit flush against the first deck board.
Composite Starter Bull Nose Board – 3.6m 
Measuring 22.5 x 145mm this bull nose starter board is perfect for steps, overhangs and edges. It is held in place with two starter clips pushed into place and then held in position by the next board.
Composite Corner Trim 50x40mm x 2.2m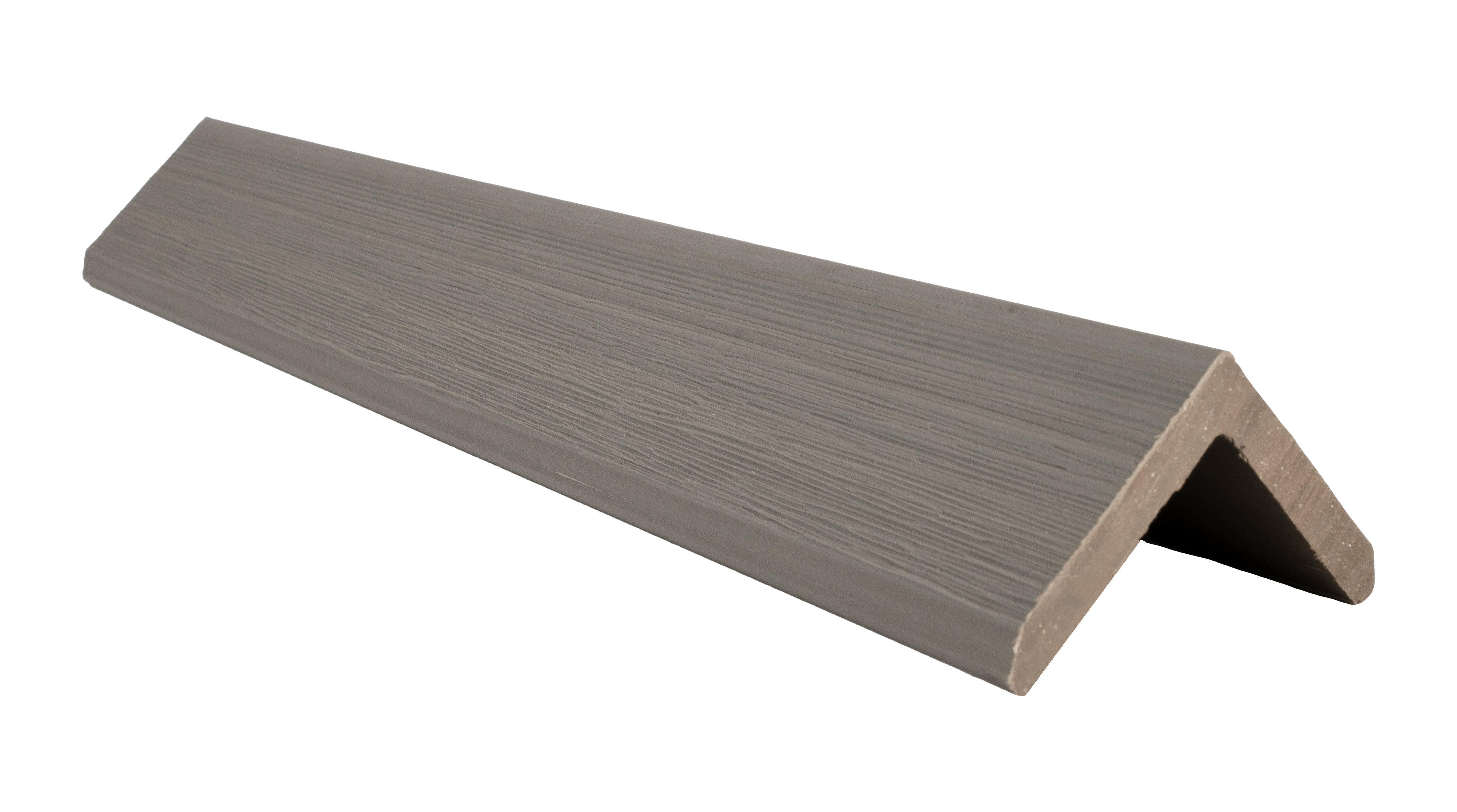 Measuring 50x40mm and available in four colours to match the deck boards, antique, carbon, maple and redwood. Perfect for steps and edges finishing the deck neatly. Pre-drill the boards, countersink then use one of the stainless screws to fix to the joist.
DuoJoist – 4m 100x50mm Box Section Joist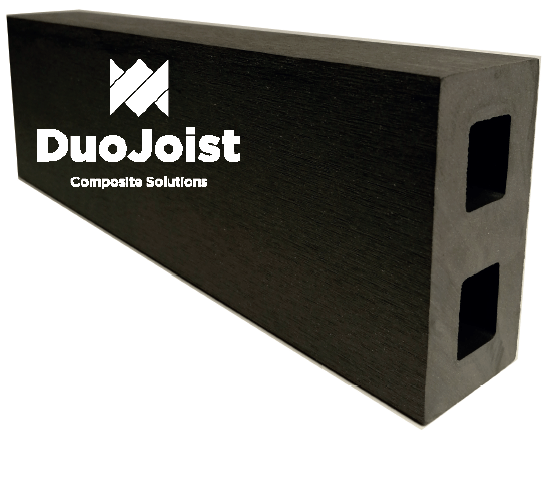 Duojoist has been designed with a 15mm thick outer wall, it allows for a strong fixing of the deck boards on top, finishing 100x50mm it is a robust and sturdy joist perfect for any composite deck. We suggest a maximum of 350mm centres between joists.
X-Section Bearer 4m 40x25mm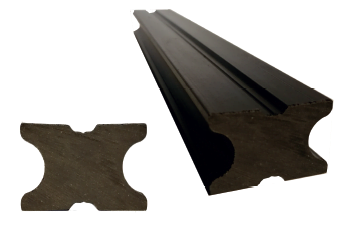 The X-section joist is a X section moulded from a 40x25mm block and designed to be laid directly onto a concrete pad, patio or block paving. It is non-load bearing. However gives a fixing point for all the clips and screws.
If you prefer you can still use a timber joist for fitting composite joists, we still recommend a 400mm centre. We can supply either a 150mm or 100mm joist. These are a graded timber joist ex.50mm thick. All joists supplied are pressure treated.
Adjustable Joist Supports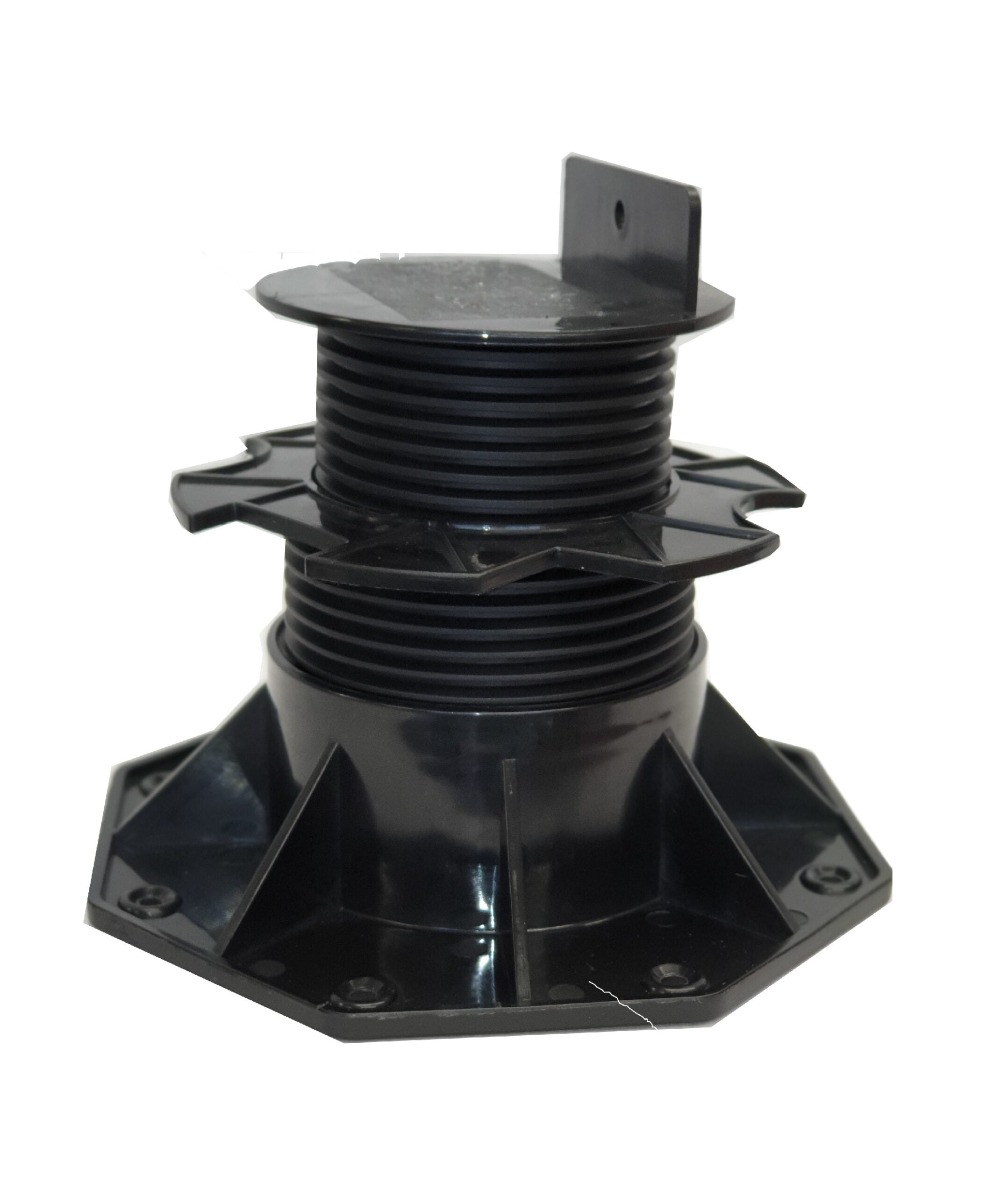 Adjustable Joist Supports, are designed to sit on a hard standing, they are screwed and un-screwed to raise the leg to give a perfectly level base of joists to sit into. Best used where uneven ground makes it hard to get a level area.
Corner Bracket for Joists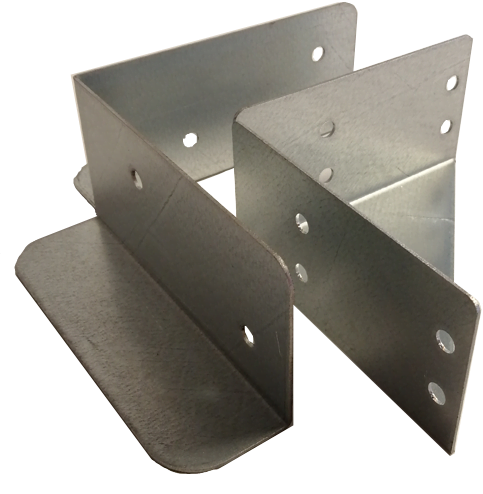 Designed and made for us at DuoDeck this specially produced corner bracket gives the perfect fixing for where composite joists have to be fixed as a corner. It allows for joists to be fixed together with a strong, secure fixing with a perfect 90o angle.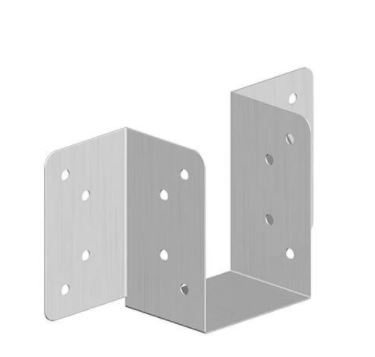 Allowing for a 50mm joist this mini joist hanger suits our Duojoist or timber joists perfectly. Giving a strong and reliable fixing. Made from an electro galvanised metal for a long life. You will need one where each joist meets another.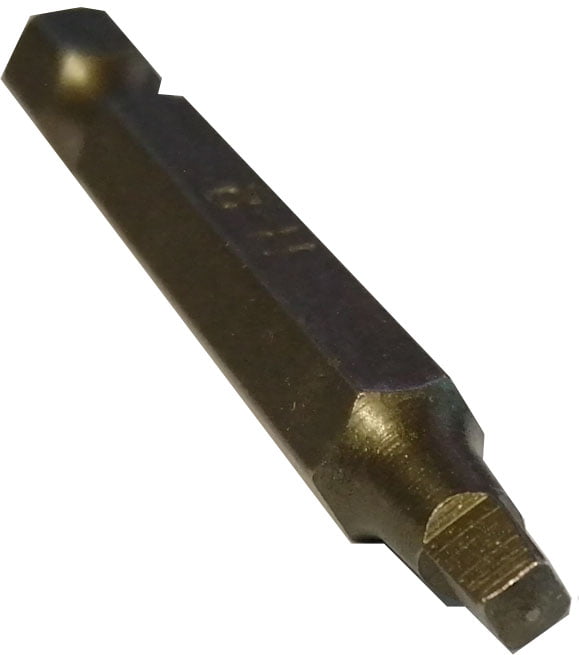 Square driver drill bit, perfect for use with our square drive clip and screws.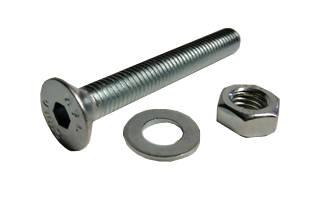 This M8 Bolt is designed for use with the corner brackets, when fixing the composite joist together.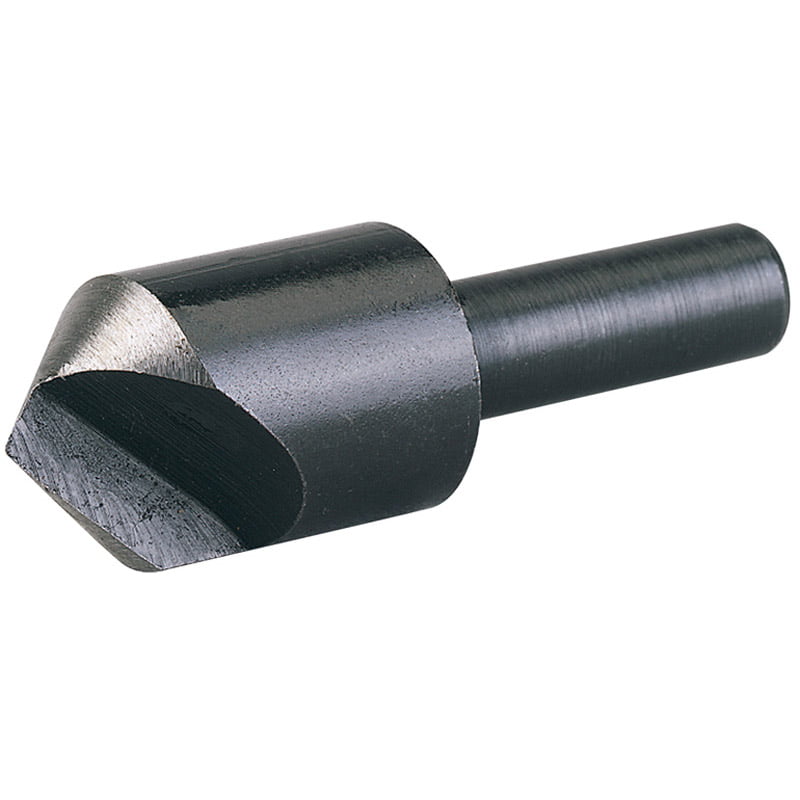 This 16mm Countersink Drill Bit compliments the m8x60 countersink bolts.
For any
composite decking
enquiries, please get in touch today and speak with one of our helpful professionals